A brief bow biography: I began my professional career as a bowmaker and restorer in Boston in 1977. In 1978, I began a formal training program with Arnold R. Bone of Needham, Massachusetts. I worked closely with Arnold until his death in 2001. In 1981, I opened my first shop in Newburyport, Massachusetts. I currently live and work in southwestern New Hampshire.
NEW BOWS
I have a limited production of new bows. I view the bow as a sophisticated
tool. I strive to make a bow that is responsive, fits comfortably in the hand,
and is mechanically dependable. My bows come with a lifetime warranty
for materials and workmanship.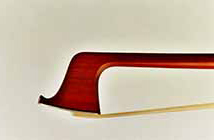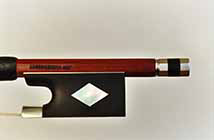 RESTORATION
I am dedicated to the preservation and restoration of fine bows. I have included a few examples of recent repairs.